FinTech Forum is the first and largest hub for FinTech in Continental Europe. Founded in July 2013, it seeks to identify innovators, disruptors, and "hidden champions" in the financial services sector and bring them together with investors and financial institutions. I had the chance to talk to Samarth Shekhar, co-founder of FinTech Forum and founder of the research and advisory boutique TechFluence. An interview about the Brexit and the future of the German FinTech scene:
With your consulting company TechFluence you are active in London: How is the mood in the local banking and FinTech scene against the background of the Brexit?
I would sum up the mood in the UK as better than expected, but uncertain. Some significant funding rounds have defied Brexit, but German startups raised over 80 percent more than the UK in Q2 and deal volumes dropped in the UK, as per CB Insights/KPMG report. The uncertainty, especially around access to Continental Europe, is not going away any time soon and we foresee several FinTech as well as financial services firms moving or adding offices and staff in cities like Berlin, Paris, Dublin, or Frankfurt in the coming months.
How do you see the prospects for the German FinTech scene: Can Germany take the European lead from the British?
London will continue to be a strong centre for financial services especially around investment management and capital markets. However, we are expecting German startups to dominate in the key investment areas of lending, payments, wealth management and insurance.
For example, the three biggest FinTech funding rounds in Europe in 2015 involved German lending startups – Zencap, Auxmoney, Kreditech – together raising nearly €650 million (venture capital and debt). As mentioned above, in Q2 German FinTech startups raised 80 percent more funding than their UK counterparts. We are quite optimistic that Germany has the startups and the momentum to lead the European FinTech scene.
Regulation is a location factor for start-ups. Does Germany shoot itself in the foot?
I would be surprised to see a "startup-friendly" regulator in Germany on the lines of the UK in the near future. However, an openness to innovation, to understanding what startups offer to customers, and starting a dialogue – e.g. with the BaFin-Tech event – is already a good start.
In your view, how can consumer protection and innovation be reconciled better?
There are two parts to this – one, as already mentioned, the part decided by the regulator and the other determined by the consumer. Innovations will always go through the classical technology adoption lifecycle, with the early adopters willing to test out new offerings even when it is unproven or risky.
German consumers tend to take some time to trust new solutions, but once they are convinced of the quality, savings, or service, they are open to switch. It will not be easy for young FinTech firms to build this trust, but this is the way the market works.
Many major banks are currently spending money in starting digitizing offensives. Will they really be able to generate innovations?
To this question I have a black and white answer since 2012 when we started to research the still emerging FinTech space: not on their own!
We were convinced that there was no way that financial institutions that are struggling to survive, addressing compliance topics, shutting branches, laying off staff etc. will launch digital initiatives that could cannibalize or undercut their existing businesses or revenue streams, or address unprofitable customer segments. This was precisely the objective of most FinTech startups. Over the last three years, we have seen just a handful of banks globally that understand this – and have built programs to partner with, invest in, or acquire FinTech startups.
With the FinTech Forum you bring together innovators and investors. How many investments have you set in motion so far and how do you assess the situation in general?
We have been fortunate to be the first-movers in the FinTech space in Continental Europe, giving us the chance to build relationships with founders early, as well as giving us visibility on the global stage. Our eleven events since 2013 have brought together nearly 200 startups with over 450 investors and corporations. Over one-third of the FinTech funding rounds in 2015 involved alumni of FinTech Forum.
This was also the first year when German FinTech funding overtook the UK. To give you a comparison: As of 2013, Germany's share of FinTech investments was less than $60 million, versus UK's $3.2 billion!
We have been invited to present the German FinTech scene at leading global events like Innotribe/SIBOS (Boston, 2014), Money20/20 Europe (Copenhagen, 2016) and International Financial Global Summit (London, 2016). Just last week we have presented the German FinTech scene as part of the global FinTech Hubs sessions at SIBOS/Innotribe (Geneva).
In general, we see the FinTech market going past the hype phase. Funding has slowed down somewhat this year, but the share of corporate VCs or strategic investors is increasing. Regardless of the usual market ups and downs, the innovations and changes facing a sector that makes up nearly one-fifth of the global economy are here to stay and present a massive opportunity for startups as well as incumbent players in the coming years.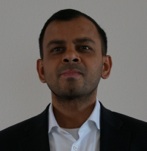 Samarth Shekhar
Samarth Shekhar is the co-founder of FinTech Forum and the Founder & MD of TechFluence, an award-winning research and advisory boutique based in Frankfurt. In June 2014, he was named to the Financial News FinTech 40: "40 Leaders in FinTech" / Wall Street Journal "40 Innovators Shaping the Future of Finance". Samarth Shekhar is the author of the Study of FinTech series which tracks FinTech startups and deals in Continental Europe since 2013. Before founding TechFluence in 2012, he worked at Capgemini Deutschland, HCL Tech / DSL (a Deutsche Bank JV), OrbiTech (Citigroup spin-off), and PwC's E-Business Practice. He has a degree in Engineering (Computer Science, BIT Mesra) and an MBA in Strategy & Marketing from IIM Calcutta.
Bildquelle: Shutterstock